July brought the Frome Open Art Trail which went well with 50 artists in 21 venues with lots of visitors and sales.
Along with Kate Westcott in my venue at home we enjoyed talking to our visitors and happily both made some sales!
'Twisted Tree' Biddulph
One of my smallest paintings which sold and has now gone to Scotland.
The house is nearly back in order – though we are to have the front wall tanked, so there will be a lot of plaster dust and general dust – so not everything is back in place!
'Branches over the River Coly' in Devon
I continue to work on my Through the Branches series completing the latest one quite recently. It is oil on board, 33cm x 22 cm.
The image is from one of my walks in Devon while spending time looking after my mother in her last weeks of illness.
My painting is slow at present, with trips out to decorate, some gardening, seeing friends (at last!) and a few days in Devon for my mother's Memorial. Now to concentrate on painting while the builders make a mess….
Coming up next is the Bruton Art Society Exhibition – this is my first with the Society and have my Red Japonica painting on show at the Kings School Memorial Hall.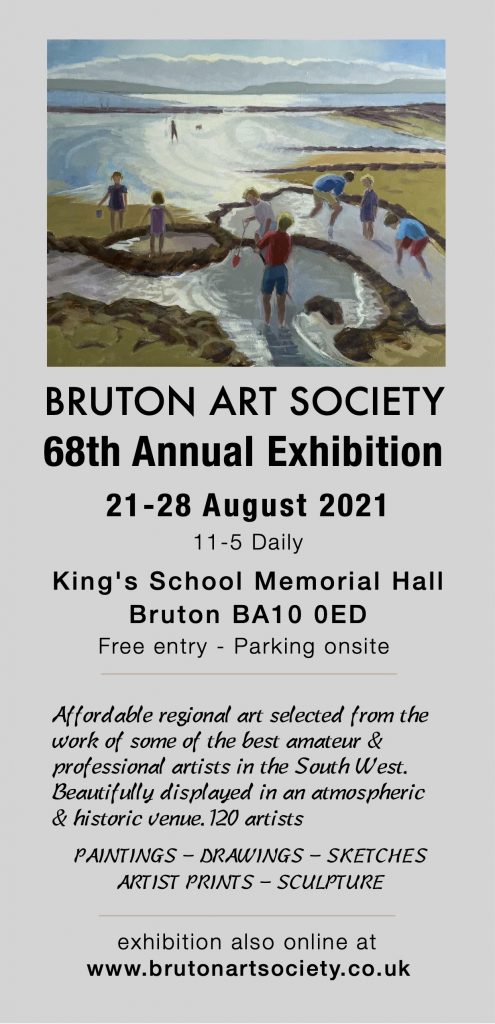 My priority over the rest of August is to finish a piece for Art Aviso – the Garden of Loss and Triumph which I started ages ago.
It is mainly about my parents now both deceased, and memories from my childhood. My father was a glider pilot and we lived in a village called Beech, hence beech trees and leaf design. My mother loved bluebells and there will be primroses too…. The 'triumph is about my success as a professional artist, my father's symbolised by the glider, then there is a red kite to come symbolising the reintroduction of some wildlife here in the UK.
Generally always open is the new Woolverton Art Gallery showing a variety of paintings from many local artists – mine included.
'Heatherhope', oil on canvas, 3′ x 4′